Bridgeport Sound Tigers
AHL (American Hockey League)
Affiliate of the NY Islanders
Webster Bank Arena
600 Main St
Bridgeport, CT 06604
(203) 334-4625
I attended a game here with my brother Billy. A first for me was being able to take a ferry to a hockey game. The Sound Tigers team up with the Port Jefferson/Bridgeport Ferry and offer walk on tickets to/from Port Jefferson including tickets to the game for $30 a person - an excellent value. The arena is a short walk from the Bridgeport ferry dock.
The ride takes about an hour and a half. The ferry has a bar and offers concessions. It beats driving around the city to get to CT from Long Island.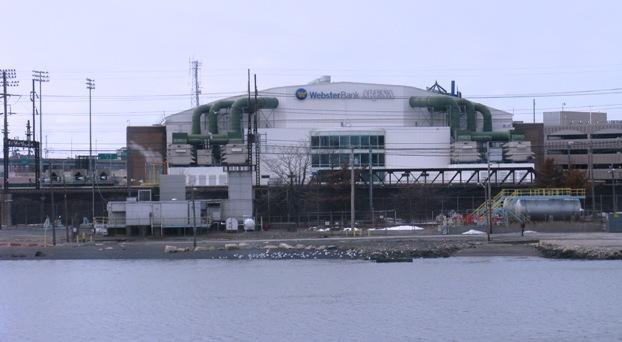 Here's approaching Webster Bank Arena from the ferry. After departing the ferry, we walked to the left and around to get to the arena. I suspect walking to the right and around that way may be a shorter walk to the arena.
There's also a baseball stadium next to the arena (you can see the stadium lights on the left side of the photo above).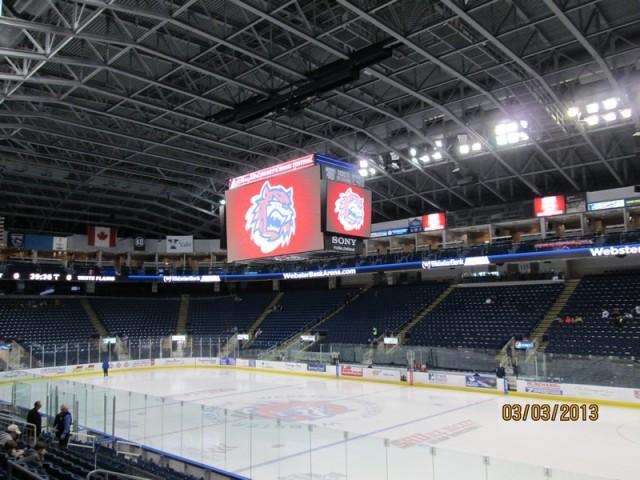 Photo courtesy of Billy Minard
There is a new scoreboard at Webster Bank Arena a bit larger than the traditional 4-sided scoreboards. The quality of the video replays is excellent.
The concourse is odd. You can't walk around the entire concourse as it ends where the players come out. And, even though my seat was in row E, I had to go up to the second level to reach my seating area.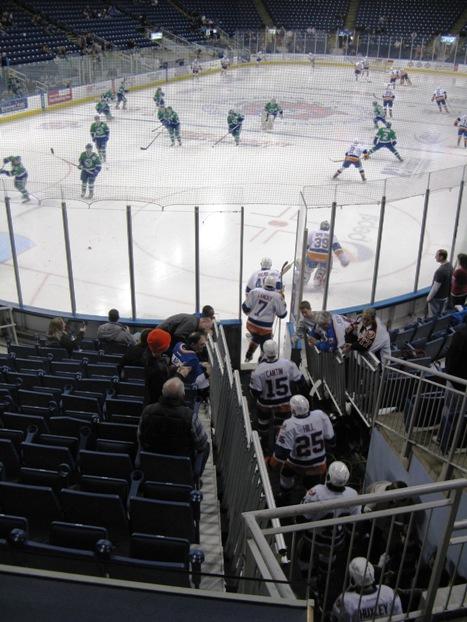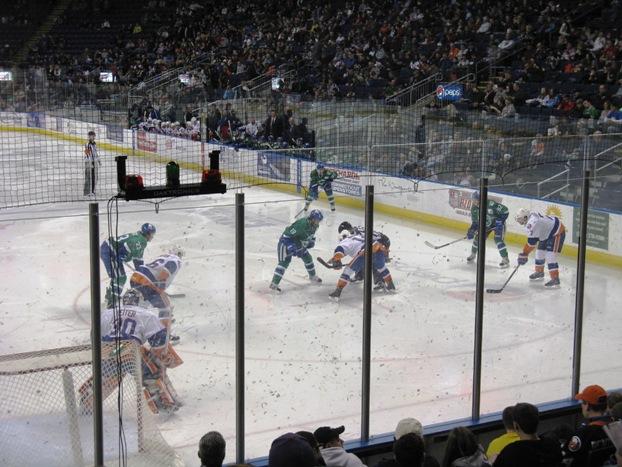 It appears the seats you get when you take the ferry are behind the goaltender, as I saw many of my fellow ferry riders in the same section . I would not normally choose to sit here as I like looking at the rink from above the glass and I don't like watching sporting matches behind a net.
Webster Bank Arena does need to get their glass panels cleaned as it was difficult to see through all the puck marks and scratches.