Macon, GA 10/14/01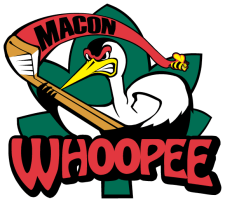 The Macon Whoopee disbanded after the 2001-2002 season. They were part of the ECHL for a short period.
Macon joined the newly formed ACHL in the 2002 - 2003 season. Their new name is the Macon Trax.


8/30/09 - There does not appear to be a hockey team in Macon, GA this season.
Anyway, on to the roadtrip to the Centreplex in Macon.
On 10/14/01, a group of Grrrowl fans headed southwest to Macon, GA to see their team take on the Macon Whoopee.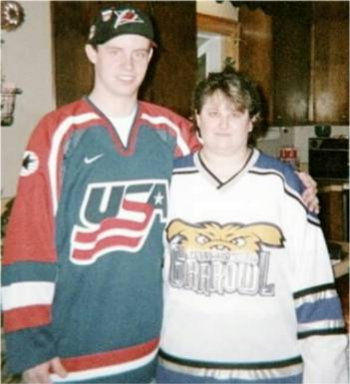 Randy and Kim met me at my house to begin the trip.

One of these days, I'll learn how to take better photos.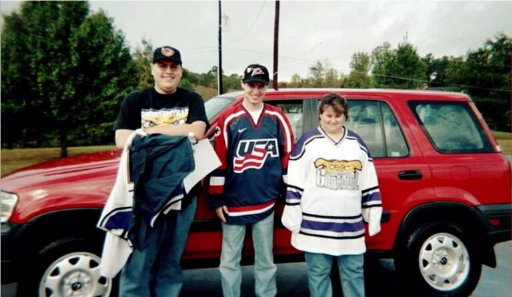 We picked Jason up on the way down I-85. Here is Jason, Randy, and Kim in front of the MRV.

MRV equals Meg's red vehicle, Meg's recreational vehicle, Meg's roadtrip vehicle, or in this case, Macon roadtrip vehicle. It looks nice, shiny, and clean in this photo. I must have washed it for this trip.





I'm going to guesstimate it took us 3 1/2 hours to get to Macon. I'm sure we made a pit stop or two along the way. Oh yeah, THAT rest stop in Georgia just before I-85 goes from a two lane to a hectic 4 or 5 lane interstate.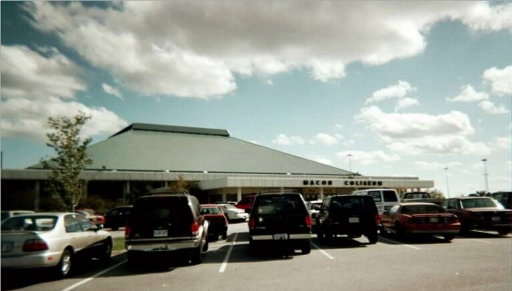 Here is the outside of the Macon Centreplex. It seats about 9,000 for a hockey game.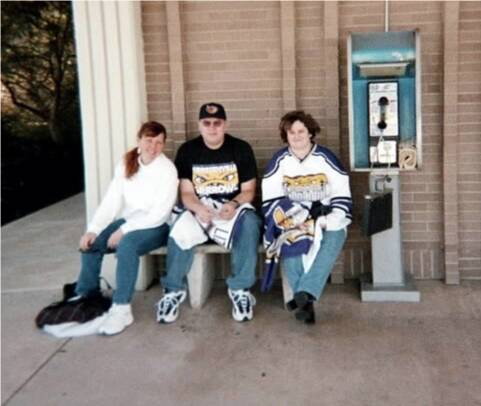 Here's me, Jason, and Kim just hanging out waiting for the doors to open.

A diehard hockey fan would know, one must get to the arena in time to watch warm ups. It's okay to wait outside for a few moments for the gates to open. One MUST NOT miss warm ups.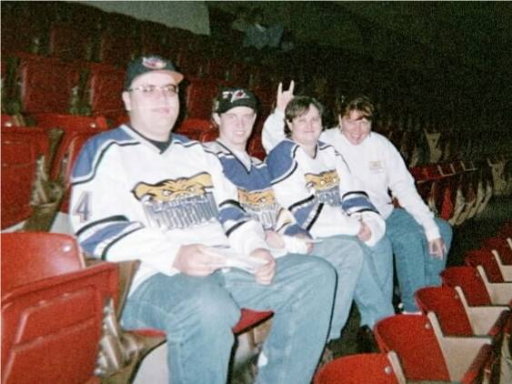 Jason, Randy, Kim, Meg

Here's all of us. Sorry, Kim. I was being goofy. Not Goofy; but goofy.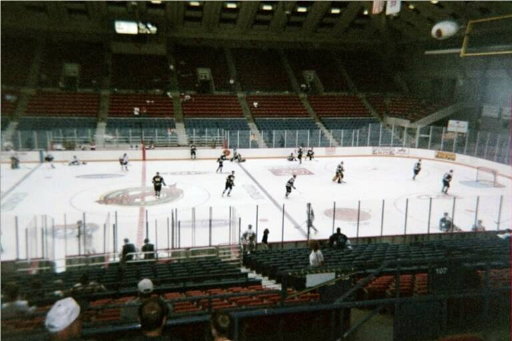 Here's the Grrrowl out on the ice during warm ups.

Ty Garner was in goal for this game.

The Grrrowl ended up losing in a shoot out. 2 - 1



We met quite a few other Grrrowl fans who had made the road trip this day. It was a nice arena; we were welcomed. We sat just below where Bill McLaughlin was calling the game. Bill was the radio announcer (and more) for the Grrowl. He was simply the best. He has since moved on to bigger and better opportunities.