3/12/99 - 3/14/99 New Orleans Road Trip

Saturday morning, Eve and I got up around 7 am. We walked down to Cafe Du Monde and had cafe au lait and beignets. It poured rain. We headed back to hotel for directions, meeting time and place.
Once we were all assembled, we all drove down to Jackson Square.
Eve and I went to the French Quarter. Most of the others went on a riverboat tour.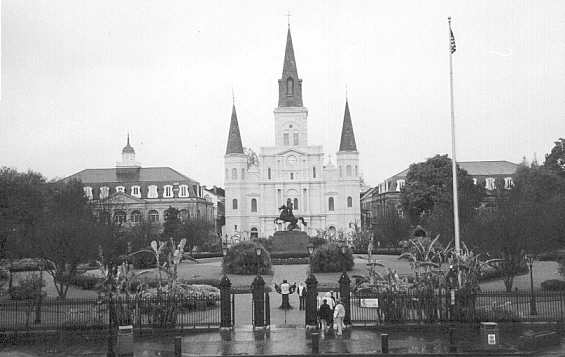 Jackson Square. Looks like when I scanned this photo in, I didn't have the 'color' option set properly. Even so, I'm kind of liking this one in black and white. So, I'm going to leave it as is...

Eve and I walked the French Quarter, looking at the architechure, running from awning to awning to stay out of the rain.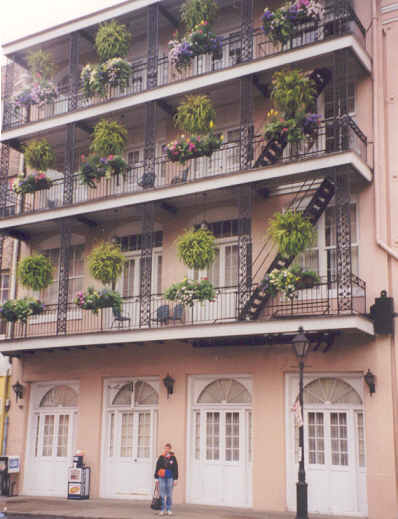 That's me at the bottom of this photo. I tried to capture a popular style of housing in the French Quarter area in this photo. Multiple levels, balconies, ferns and flowers, tourists (me)..

We went and had lunch at a most delightful restaurant. Can't remember the name but it was at this corner of the French Quarter.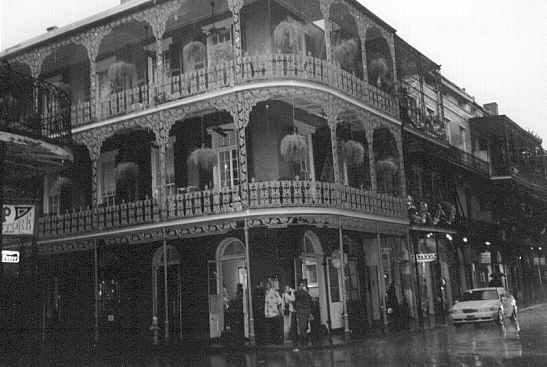 Again, I must have had my settings wrong when I scanned this in. But I like it. This photo also illustrates the heavy rainfall that day.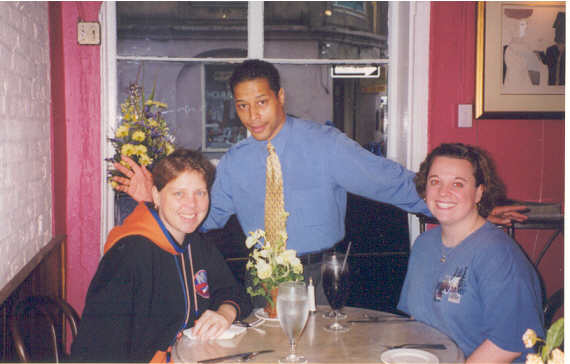 Here's me, Terri, and Eve. Terri was our host at this restaurant. He was a delight.
The food here was superb. I had 'Taste of the Bayou.' Red beans and rice, gumbo, entofu (phonetic spelling).
We then headed to Pat O'Briens. I was introduced to a Hurricane (drink that contains rum and koolaide.) There are several 'gathering areas' (aka, bars) within Pat O'Brien's. We ended at one which would be called a piano bar. After one of those Hurricanes, I was singing along with the pianist and the rest of the crowd.
We headed to meet the rest of the group at 2 pm. It rained, it poured. We all headed to Biloxi to watch the Grrrowl take on the Sea Wolves.
Previous
Next


March 1999 New Orleans Trip Page
Baseball Home Page
Hockey Home Page