3/12/99 - 3/14/99 New Orleans Road Trip

We went and saw the Grrrowl get hammered by the Mississippi Sea Wolves, 6 - 1.
The Sea Wolves play at the Mississippi Coast Coliseum in Biloxi.
To tell you the truth, I don't remember a heck of a lot about the arena. Just one photo worth sharing below.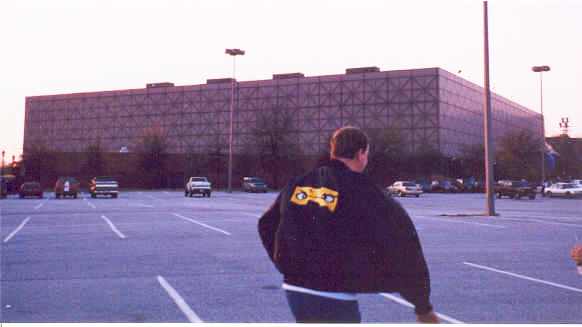 Here's the outside of the arena. I remember it being very close to the water.
That's Mark (our van driver and off ice official) running away from us. I think he had had just about enough of us by the time this game rolled around.

Just one final note on the trip. We spent the night somewhere near Biloxi. We left Sunday morning at 5:30 am to head back to Greenville.
It was a quicker ride home. Less pit stops.
When arriving at the Greenville Mall, my car had been broken into. Nothing stolen but lots of glass everywhere. The driver's window had been smashed in.
It put a damper on an otherwise great weekend.
Previous


March 1999 New Orleans Trip Page
Baseball Home Page
Hockey Home Page