Rapid City Rush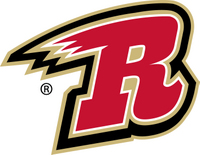 Central Hockey League
Rushmore Plaza Civic Center
Rapid City, SD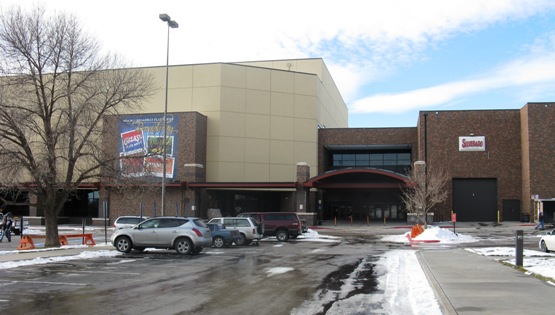 Here's the entranceway to the Rushmore Plaza Civic Center. It was walking distance from the hotel I stayed at in downtown Rapid City.
It hosts not only hockey but a variety of different shows and events. Quite a nice facility.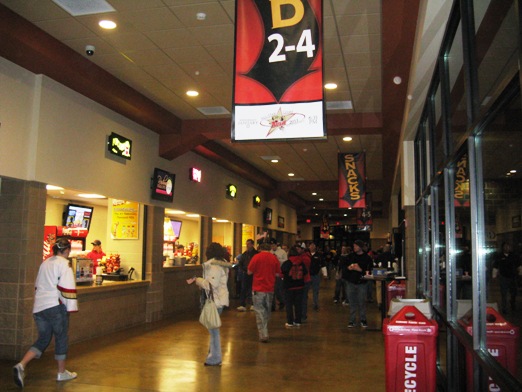 The concourse was a tad on the narrow side.
The souvenir shop did not have hat pins. Disappointed.
It had your typical, uninteresting fare and beverages.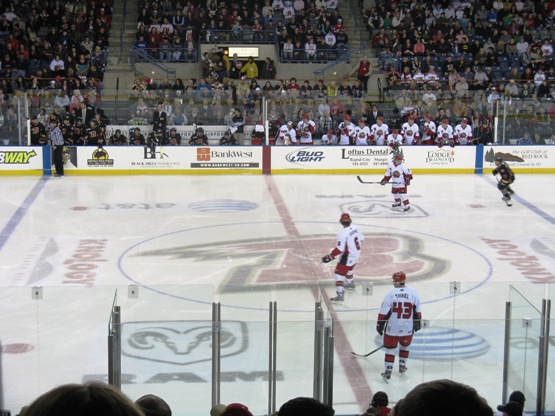 A seat just where I like it. Center ice, facing the bench, above the glass.
A nice shot of the benches and logo on center ice.
Lots of advertisements on the ice. Actually, lots of advertisements broadcasted throughout the entire game. Quite annoying.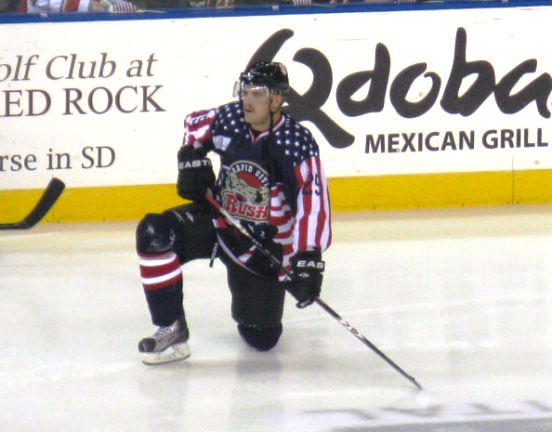 It was military appreciation night. The Rush players wore these really cool uniforms.
They were auctioned off after the game.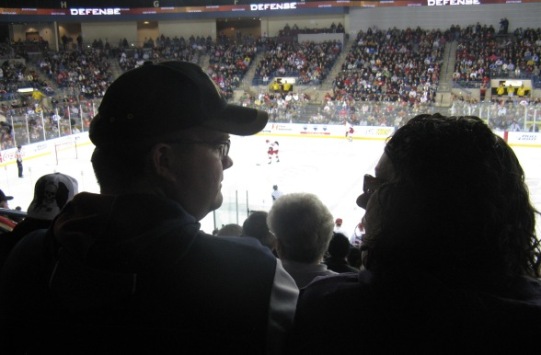 Both nights I went, I had a distorted view of the game because the people's heads in front of me blocked my view.
That, also, was quite annoying and not enjoyable at all. I kept bumping into the person sitting next to me trying to move my body to see past these two.
The temperature in the arena felt about the same as it was outside - 22 degrees F.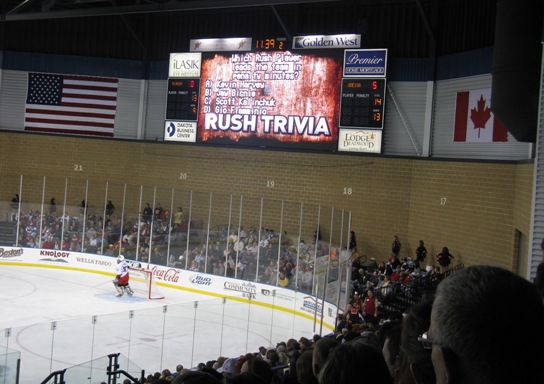 The final score ended up being: Rush = 0; Jackalopes = 8 Ouch.
The concourse was in a U shape. One could not walk around the entire concourse.
I've always wondered why some hockey arenas make the Canadian flag smaller in size than the US flag. Are we that arrogant? When looking at the roster, all but three of the players on the Rush this year are from Canada. I just don't get it.

Though I'm glad I went and took the trip (got to visit my 46th state and see my #66 hockey arena), I did not really enjoy the hockey experience here. There were plenty of other things I did to appreciate the trip. See some links below.
Rush
Mount Rushmore
Crazy Horse
Visit Rapid City
Visit Deadwood, SD
City of Presidents


Hockey Home
Baseball Home