St. Paul, MN - Minnesota Wild - Dec 2, 2009
Work brought me to the Minneapolis area for a few days and as luck would have it, the Wild were playing the Nashville Predators at home in the Xcel Energy Center. So, I enjoyed a game there.

What I like about the Xcel Energy Center:


Proud display of the history of hockey in the state - not just NHL but other leagues
The Wild players circled the center ice and acknowledged the fans by raising their sticks at the end of the game
Customer service was very good. The ticket booth attendant really looked for a good, affordable seat for me. And she got me one just where I like to sit.
Seats were close to the ice; even on the third level
Music level was perfect - it wasn't so loud that you couldn't talk with your neighbors
I had good neighbors
A good game - lots of goals; few penalties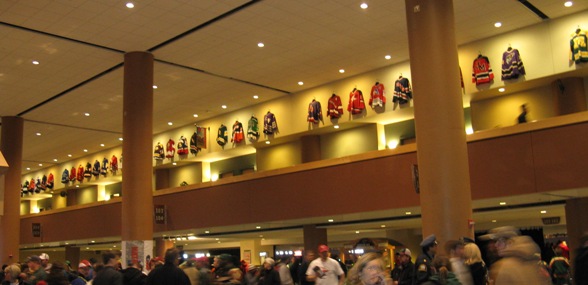 Here's just a piece of displaying the hockey heritage in Minnesota. These jerseys are from high schools across the state. I believe that is the club level. EVERY level had something to share.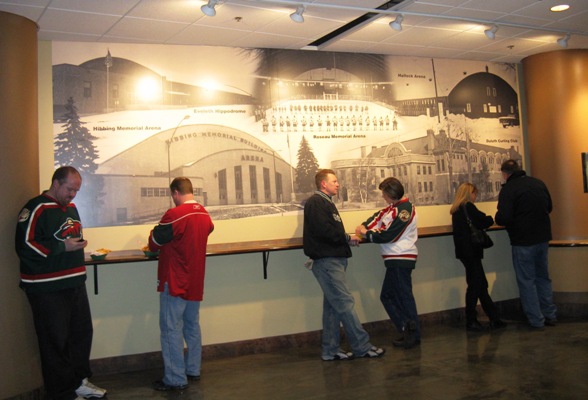 The concourses are adorned with murals, plaques, jerseys, etc. of the history of hockey in MN. Not just major league but amateur, high school, all kinds of leagues. This is on the third level (where my seats were). It's a mural of hockey rinks in the state. There were all kinds of displays throughout the concourse.

It was my favorite part of this arena.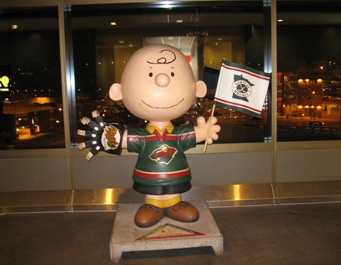 Charlie Brown

Through the windows is the city of St. Paul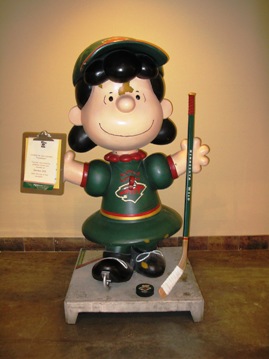 Lucy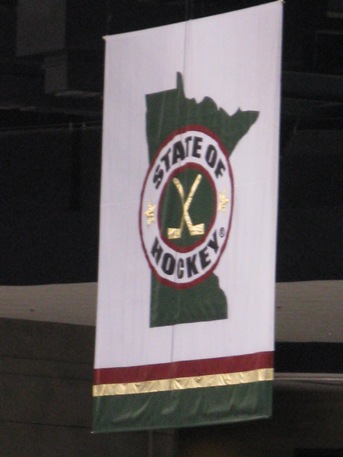 State of Hockey

I tried looking it up and where it came from. And what I found was it really is a state of mind. It contains both the spirit and knowledge of the game of hockey. Minnesota has been called the 'State of Hockey' for many, many years. It is not just a marketing promotion for the Wild.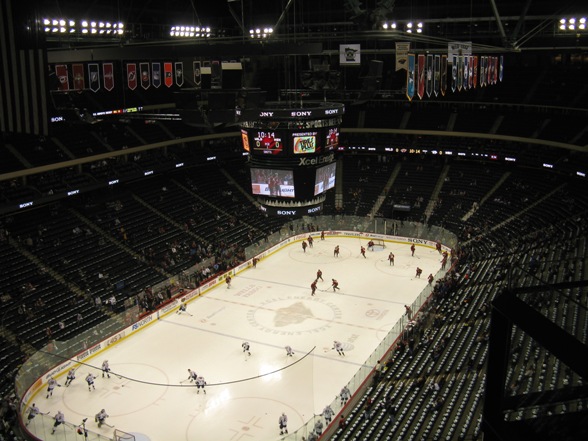 Here's the entire rink and inside the arena


Things I didn't like about the Xcel Energy Center:


Steps were steep
It was cold in the arena. There was AC blowing on me the entire game.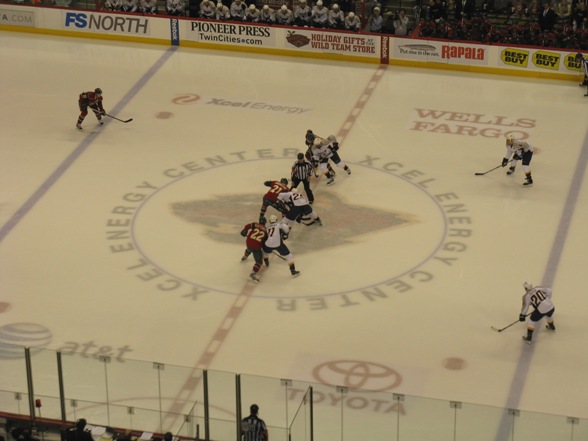 A face off at center ice.

The Wild have an excellent logo.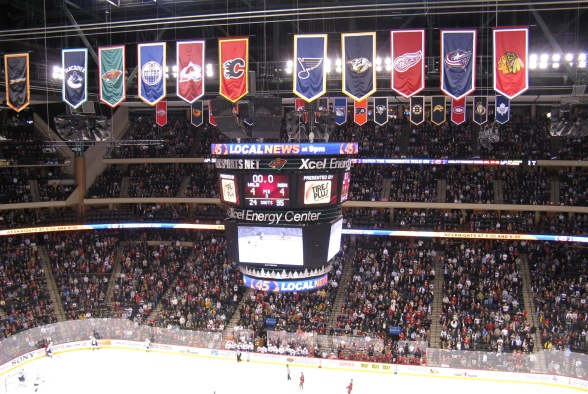 As mentioned previously, the game was excellent! Back and forth goal scoring between the two teams. Very few penalties.

The Xcel Energy Center had a fantastic display of all the NHL teams' flags as shown here.

At the end of regulation, it was tied 4 - 4, so on to overtime......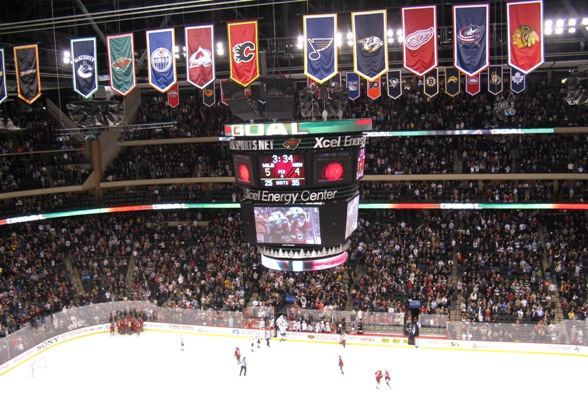 And after a minute 26 seconds of play in OT, Andrew Ebbett scored the winning goal.

This photo shows the Wild bench is empty with all the players celebrating in the left corner.

It also shows most of the hockey fans stayed around till the end of the game. I guess that's part of the 'state of hockey'.

Final score:

Wild = 5
Predators = 4



I got lost on the way there as well as on the way home. I ended up crossing the Mississippi River several times (good thing it was dark or I would have panicked driving over that bridge several times!). Then, I traveled around Eden Prairie (thatís where work and hotel is) trying to find my hotel. Saw it several times from the highway but couldnít figure out how to get to it. Iíd get off on the next exit ramp but couldnít get back around. I KNEW I was close; just didnít quite make the correct turns. At one point I ended up in Chanhassen Ė knew THAT wasnít right. Did finally find my hotel and all was well.

Minnesota Wild


Hockey Home Page