March 2006, Hockey Road Trip

Day One, March 3, 2006
Four of us left John's place in Greenville, SC at 4:06 am and headed up to WV. We met up with Rick and Lynn somewhere on I-77 in NC.
Met a 'top notch' toll booth attender, hit a little bit of snow, got to Wheeling around 3pm. Headed to the arena and got tickets, ate at Red Lobster (first time for me to eat at a Red Lobster), then found a hotel for the night.
Headed to WesBanco Arena to watch our first of three games on this trip.
Oh yeah, it was quite chilly this day.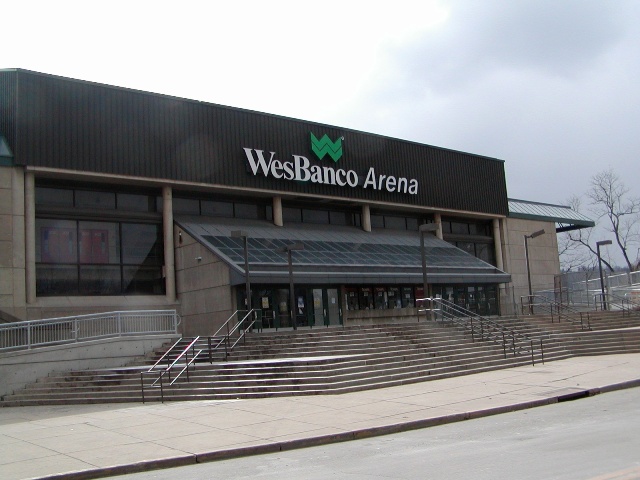 Here's WesBanco Arena. It sits right next to the Ohio River. It seats 5,406 and is in the downtown area of Wheeling.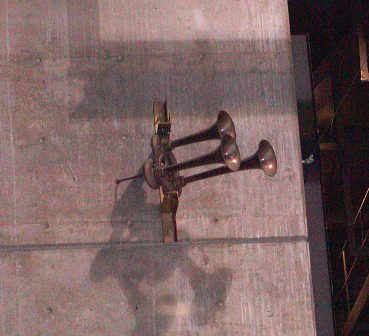 Awesome horn in this arena. LOUD!

The game against the Nailers was quite exciting. It was 0-0 after the end of regulation, then 0-0 after over time. It went into a shoot out. The Grrrowl ended up winning in the shoot out. My very first 0-0 game at the end of regulation. And even though there was little scoring, the game itself was very enjoyable to watch.
The Wheeling fans were very accommodating and polite.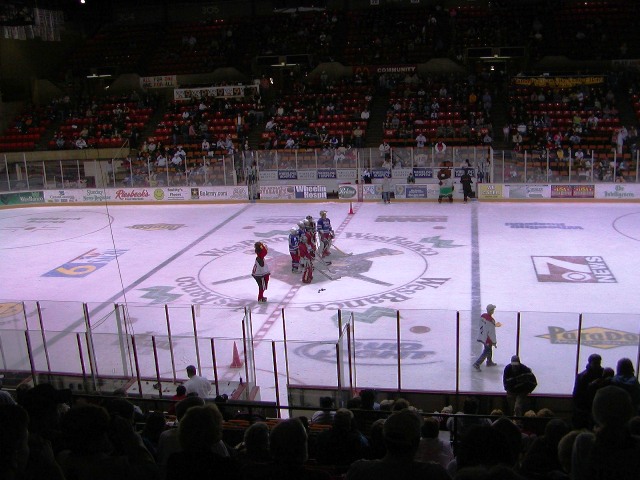 Here's the inside of the arena taken in between periods. The entertainment was a 'skills competition' for a local hockey club.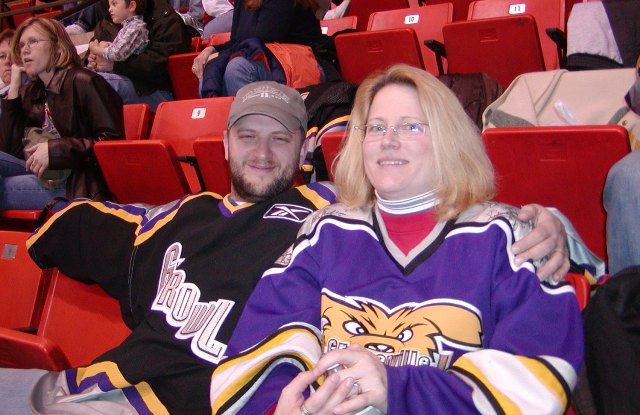 Fellow road trippers, Rick and Lynn.

After the game, we headed to TJ's (a local sports bar and restaurant) for a bite to eat. Then back to the hotel for a much needed night's sleep.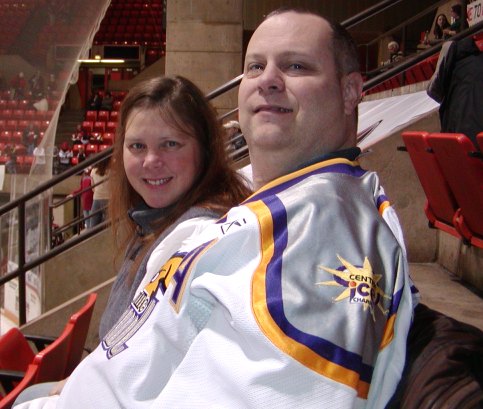 One last photo for today. Here's John and me at WesBanco Arena.

Click the next button below for adventures of Day Two.
Previous Page
Next Page


March 2006 Hockey Trip Home Page
Hockey Home Page
Baseball Home Page