1/6/00 - 1/10/00 Louisiana Road Trip
Eve and I took a road trip to Louisiana to see the Greenville Grrrowl play the following teams, all teams are (were) in the ECHL:
Baton Rogue Kingfish
Louisiana Ice Gators
New Orleans Brass
Intro to Trip
Day One, Thursday, 1/6/00
Day Two, Friday, 1/7/00
Day Three, Saturday, 1/8/00 - 1
Day Three, Saturday, 1/8/00 - 2
Day Four, Sunday, 1/9/00
Day Five, Monday, 1/10/00

Click on the logo below to go to that team's official website.
Note: 9/22/09 - The only team still in the ECHL is the Louisiana Ice Gators.
Note: 5/2/11 - None of the teams mentioned in this review are a part of the ECHL anymore. I left the logo's as a history reference.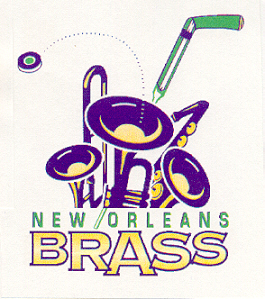 New Orleans Brass

Baton Rogue Kingfish

Greenville Grrrowl

Louisiana IceGators (a part of the SPHL - Southern Professional Hockey League - currently).
Next


Hockey Home Page
Baseball Home Page