1/6/00 - 1/10/00 Louisiana Road Trip - Day Three
Intro to Trip
Day One, Thursday, 1/6/00
Day Two, Friday, 1/7/00
Day Three, Saturday, 1/8/00 - 1
Day Three, Saturday, 1/8/00 - 2
Day Four, Sunday, 1/9/00
Day Five, Monday, 1/10/00

Saturday, 1/8/00 (continued)
After our thrill of visiting the state capitol, seeing the Grrrowl bus, and touring the USS KIDD, we headed down to Lafayette.
We found a restaurant called Prejean's. (Simply Cajun) The best food I've ever eaten. They even had Purple Haze beer in the bottle. (One of Eve's favorties.) Hey, Cindy, is that from where you get your screen name?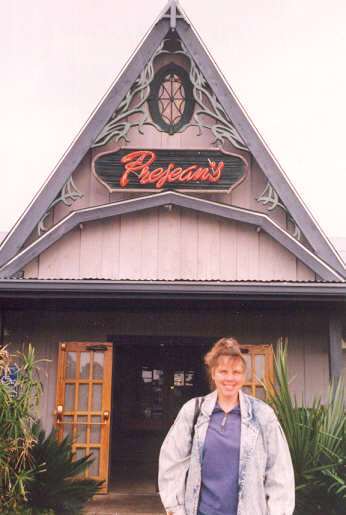 Here's me outside of Prejean's. Honest, if you're ever in the area, be sure to have a meal at this place.




Watched the Grrrowl lose to the Ice Gators 4 - 2. The Ice Gators came from behind in the third period scoring three unanswered goals. I almost ran out of room on the penalty section of my scorecard.
It was Elvis night at the Cajundome. Hundreds of Elvis's in the stands. Even Eve's Elvis friends from Indy were there.
Can't say I enjoyed the game at this venue. Music was WAY too loud. Seats weren't comfortable. I kept slipping in them.
Strange thing happened. The parents of the kids in the row in front of us asked us if we would watch their kids while they went out and had a smoke. Eve began worrying they wouldn't come back. They did. I even had to do some parental things. Like okaying one of them to go get paper towels because a drink had spilled.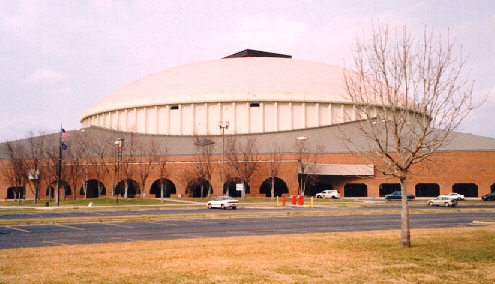 Here's the outside of the Cajundome in Lafayette, LA.




We did meet Corey Masse and a grinning Jay Panzer at the concession stand. I asked Corey about the new guy, Sergei Tkachenko. Corey wasn't amiable but Jay Panzer was grinning ear to ear while I was talking with Corey.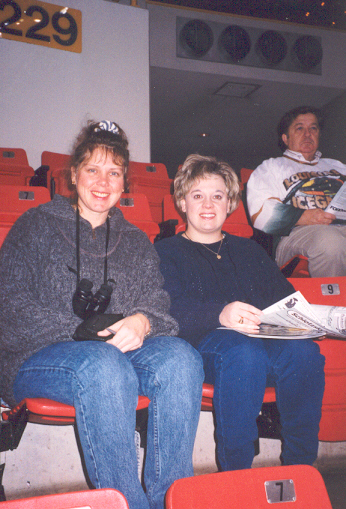 Here we are sitting in section 229 in the Cajundome. Meg is on the left; Eve is on the right.




Previous
Next


Hockey Home Page
Baseball Home Page