1/19/02 - 1/26/02

Sovereign Bank Arena

2002 ECHL All Stars

Skills Competition

All Star Game

NJ State Capitol

Richmond - Renegades

Richmond - Careytown

Shane Belter

Sovereign Bank Arena My journey there -
As mentioned on previous page, my intent was to stop in Atlantic City to see Shane Belter and the Boardwalk Bullies. I left my house at 5:30 am (an ungodly hour of the morning) to make it to AC for the game.
Somewhere across the VA state line, the rain started freezing. It got worse: snow, freezing rain, sleet. I saw 20 or so accidents; many cars spun out and ended up on the side of the road facing backwards. Some accidents looked very, very bad. I'm sure there were severe injuries.
I ended up going 40 mph and decided to give up the drive in Fredericksburg, VA.
I left the following morning at 9:00 am. Made it uneventfully to Trenton around 2:00 pm. It was cold, cloudy with snow and slush covering the ground.

Sovereign Bank Arena, now known as Sun National Bank Center, is built in an area of Trenton that used to be steel mills. It seats about 7500 for hockey. There wasn't a heck of a lot to see or do around the arena.
It looks like the county is trying to make something of the area. One old mill building across the street from the arena had a sign indicating the opening of a sports bar/restaurant in the future.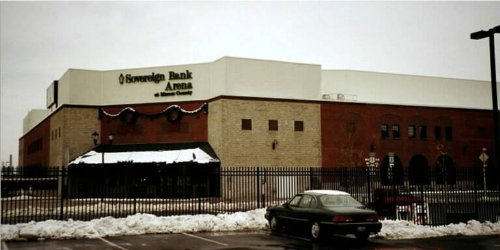 This was one of two entrances into the building. They certainly searched my bags thoroughly at this entrance.
Purse, camera and binoculars. And they weren't nice about it. 'Tis a shame.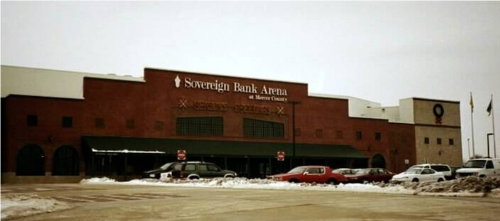 Here's the other main entrance.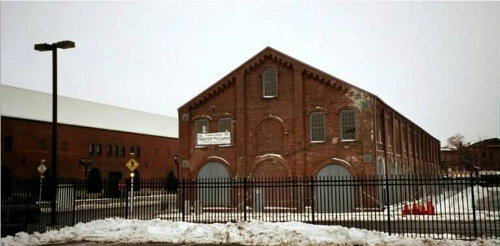 Sovereign Bank arena is the one on the left. This building above is the one indicating there would be a sports bar/restaurant coming soon. That will be nice for the area.





In the basement of the arena, they displayed both the Stanley Cup and the Kelly Cup. This was done just for the All Star Game.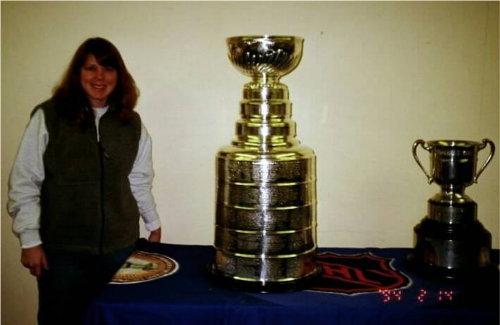 Here's me next to the Stanley Cup and the Kelly Cup. Forget the date on the bottom of the photo. I had it set wrong in my camera. The Greenville Grrrowl (my team) won the Kelly Cup this season. Sweet.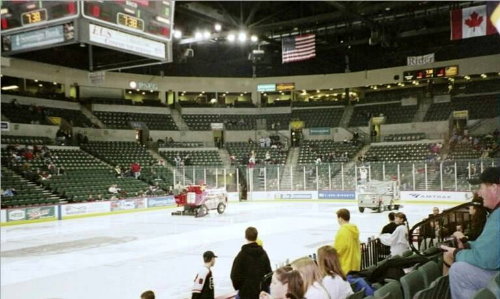 Here's the inside of Sovereign Bank Arena. They displayed both the American flag as well as the Canadian Flag. There are three levels of seating. Entrance into the arena is between the first and second levels. Suites are above the second level. Two zambonis. That's not common in minor league hockey.
Hockey Home Page
Baseball Home Page
Previous Page
Next Page