Richmond Renegades I had to scoot over to Melville, NY for a few days of work before heading down to Richmond.
Remind me not to combine work trips with vacation trips in the future. Work just takes something away from the vacation piece. And the vacation just takes something away from alertness at the work piece.
My journey to Richmond -
I left LI @ 10:15 am. Hit a big accident in Maryland. That set me back 45 minutes and caused me to hit DC rush hour traffic. Man... I was in need of a hockey game.
I got to the Richmond Coliseum just a little after 6:30 pm. The guys were already on the ice. HATE missing warmups.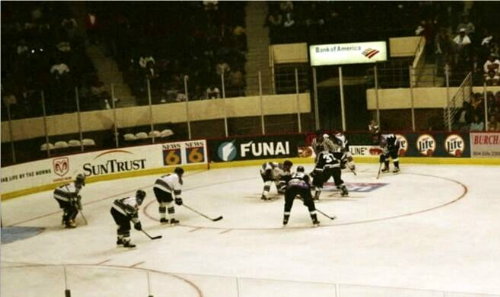 This game was a nail biter. The Grrrowl ended up winning 5-4 in overtime; not shootout, but overtime. Richmond matched every goal the Grrrowl made. Gamache had two goals, one a nice SHG.
This game is probably the only game I've been to where there were more goals than penalties. Seven penalties.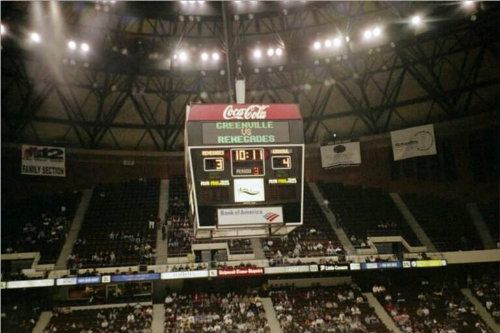 About the Richmond Coliseum. They had cushioned seats!! There were two zambonis. It was teddy bear toss night. There were quite a few other Grrrowl fans there besides me.




I spent the next day visiting Careytown, VA. Click on link on the upper left for commentaries on that.
I eagerly awaited this game for a chance to see Shane Belter play one more time before he retired.
I got to the arena when the gates opened. Took some snap shots (see below.) I watched as the Renegades players entered the ice area for warm ups; then the Bullies.
Looking for Shane, I was. Looking, looking, looking for that #2 to skate out. Well... needless to say, he didn't dress nor did he skate that night. I never did find out why. There were no AC fans to ask. If memory serves me correctly, he was out the last part of the season due to injuries.
I probably wouldn't have stayed the extra day in Richmond if I had known Shane wasn't playing.
On a side note, I did get to see Vratislav Cech play (former Grrrowl player.) That was a good thing.


The scoreboard.
It almost looks light a ray of sunlight shining down on that scoreboard. It wasn't; just a light from the ceiling.
I thought it looked cool.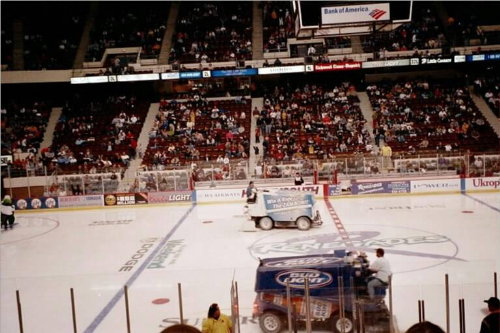 As mentioned earlier, they had two zambonis.
One could win a ride on the one zamboni. (Not the Bud Light one.)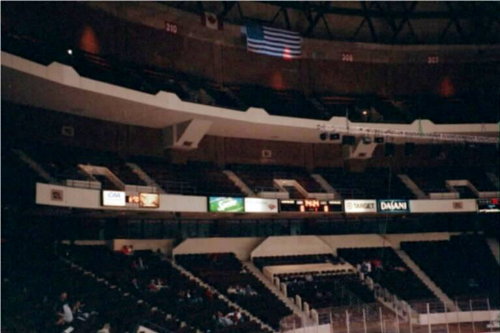 Three levels of seating.
Our American Flag sure looks fine. I'm thinking our good friends to the north (Canada) got the shaft on flag size in this arena.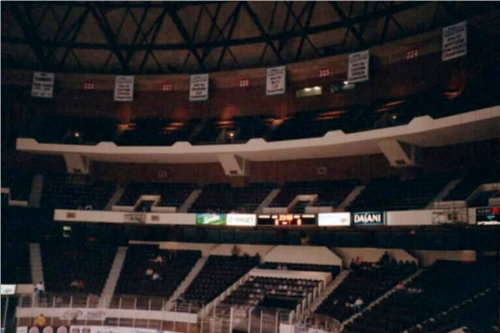 Here's the other side of the arena. Sections were clearly marked.
Lots of banners but I don't remember what they represented.