1/19/02 - 1/26/02

Sovereign Bank Arena

2002 ECHL All Stars

Skills Competition

All Star Game

NJ State Capitol

Richmond - Renegades

Richmond - Careytown

Shane Belter

Skills Competition They had the Puck Control Relay, the Fastest Skater, the Hardest Shot (Briane Thompson #15 won this at 98.0 mph), the Rapid Fire, the Shooting Accuracy, and finally, the Breakaway Relay.
I met some great Johnstown Chiefs fans at this event. Many of the ECHL teams were well represented at this event. Neither snow, nor hail, nor rain will keep them away. Is that the US Postal Service? No, it's ECHL fans!!!!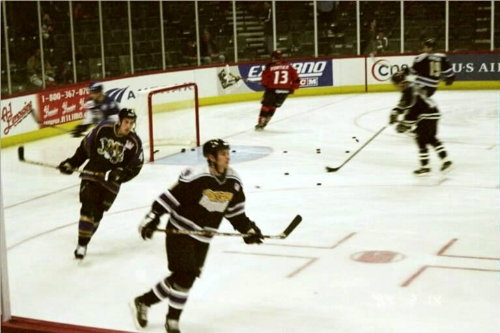 Okay. This was taken during warmups. The guy in front is Roger Trudeau from the Greenville Grrrowl. The #19 in the upper right corner is Steve Rymsha of the Greenville Grrrowl. Can you guess where I'm from?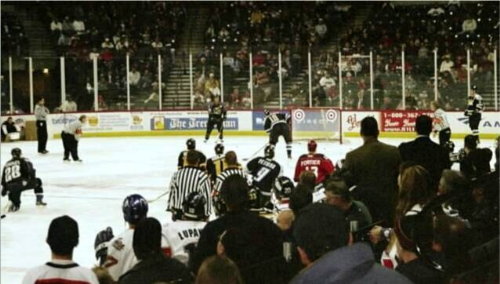 Here's Roger Trudeau taking a go at the shooting accuracy event.
Darren Tiemstra of the Columbus Cottonmouths won this competition, 4 of 6 shots.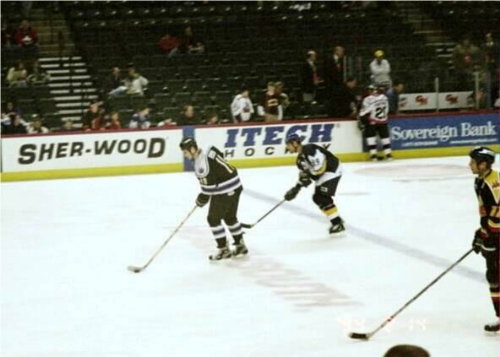 This, too, was taken during warmups.

Steve Rymsha of the Greenville Grrrowl has the puck in this photo.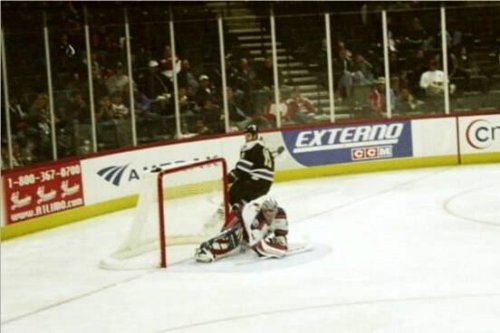 Here's Steve Rymsha facing Scott Meyer of the Charlotte Checkers in the Breakaway Relay.
Scott got the save on this one but gave up a goal to Roger Trudeau later on in the competition.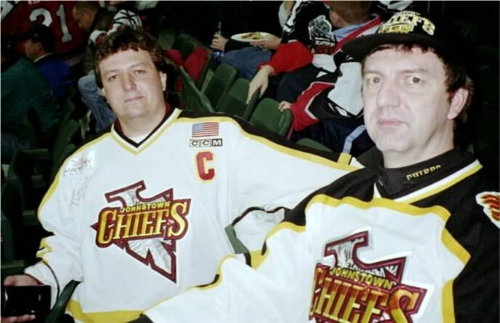 Meet Rick and Bob, Johnstown Chiefs fans.

They were one of the many ECHL fans visiting this arena for the All Star Skills Competition and Game.
Hockey Home Page
Baseball Home Page
Previous Page
Next Page