1/19/02 - 1/26/02

Sovereign Bank Arena

2002 ECHL All Stars

Skills Competition

All Star Game

NJ State Capitol

Richmond - Renegades

Richmond - Careytown

Shane Belter

All Star Game Some say an All Star Game just isn't the real thing. Well... that's true. It's a game of offense and spectacular goal tending. It is not a game of fighting or penalties. It is a game to 'show off' young talent in the ECHL. It is a display of young, raw talent.
It is an opportunity for ECHL fans to attend other arenas and meet other ECHL fans.
I, for one, will be making pilgrimages to the ECHL All Star Games as long as I live in the area, breathe on this earth, and have the finances to do it.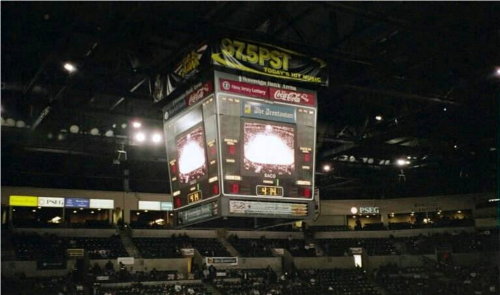 For some strange reason, I've always felt the need to photo the jumbotron at arenas I visit. Here's the one at the Sovereign Bank Arena. 4 minutes and 14 seconds to go before the 2002 All Star Game!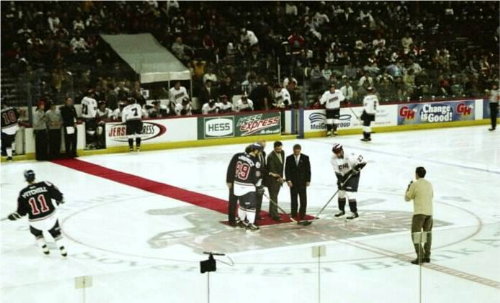 Here's the dropping of the first puck.
To tell you the truth, I don't remember who those individuals are.
Please send an email message if anyone knows.




The Southern League won this year's All Star Game 7 - 6. Both Steve Rymsha and Roger Trudeau got assists in the game.
Alan Sirois of the Pee Dee Pride was the MVP, scoring two goals and having an assist.
The man who sang the National Anthem is the one who sings it for the Ottawa Senators. He had a strong, clear, booming voice. He sang the Canadian National Anthem (English and French mixed) and the U.S. National Anthem. Very nice.
I sat between Adam and Chris, two season ticket holders for the Titans. We compared arenas, announcers, and entertainment between our facilities all evening.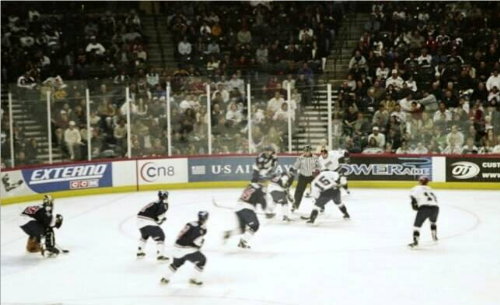 Here's an action shot. The Southern League's jerseys (dark ones) make them look 'untucked.' There were about 7500 fans at the game. Nice support.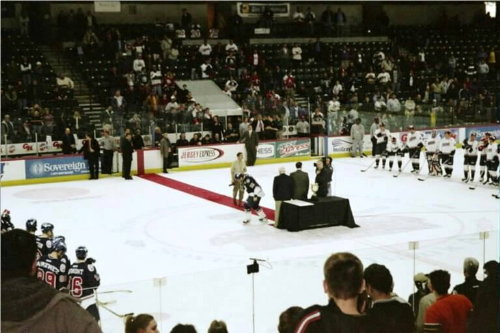 This is Alan Sirois getting recognized as the MVP.

Note the players banging their sticks on the ice showing their recognition and support. Nice touch, guys.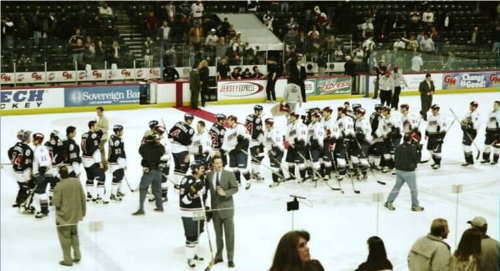 And finally, 'the handshake.'


That's Alan being interviewed in the front/center of photo.

Hockey Home Page
Baseball Home Page
Previous Page
Next Page